Why should RDG do your shutdown inspection?

Using A Third Party Inspection Company
Using a third party inspection company has many advantages, as a broader spectrum of experience in the industry can be brought to use for your plant. This experience is critical in identifying potential problems before they occur, or predicting the longevity of worn and repaired parts.
RDG Standard Practice
Our focus at RDG has always been on evaporation systems and specialty heat exchangers, and through developing these technologies and supporting the industries for which these products serve, we have developed our Field Services Department that concentrates on customer site needs. These services include support for most any on-site need, such as: system optimization, process troubleshooting, shutdown inspections, and equipment repair or replacement needs.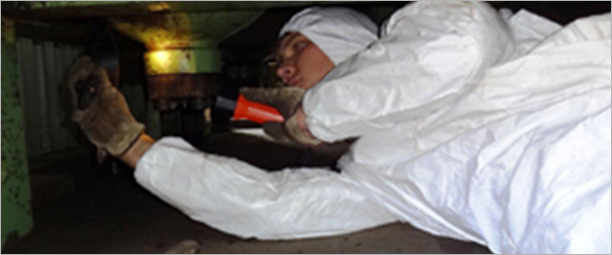 Why is it needed?
Companies running 24/7 must do their best to maintain a system with in operation maintenance, but many maintenance needs can not be performed until  a system is shutdown, allowing access to system components that are normally not accessible during operation. When these shutdown periods occur, they are usually short and have an extremely firm start up date. This tight window for equipment inspections, allows only a brief review of critical system components, meaning you must know specifically what you are looking for and how to address. The RDG field services group has this knowledge, as we have developed a fully comprehensive inspection checklist, with the support of an experienced eye, allows us to quickly identify equipment concerns prior to return to service.
Understanding the ongoing condition of a plants' equipment is crucial to prevent operational failures, and is a requirement for proper maintenance planning. These needs are easily addressed with our detailed reporting methods, as every inspection visit is finalized with a detailed inspection report outlining the full results, confirming current condition of all inspected equipment parts, with special focus to any items which have been designed as a concern for future operation of equipment.
How does it work?
The process of scheduling an inspection visit is very simple; just contact our office with your next shutdown dates and a description of the system that will be inspected. We then will submit to you a formal proposal outlining the cost for our services.
After our inspection services have been confirmed and scheduled your primary contact person will be contacted by our designated project manager for your service visit, who will confirm all site activities and scheduling for proper planning prior to our visit. This project manager will continue to be the primary contact for the mill and will remain available before, during, and after our visit.
Once onsite and released to start our inspections, our people will begin the predefined scope of services. Our inspection service can be tailored to the customer's needs, allowing full or partial participation of people from the customer such as QC managers or people designed for fire watch or repairs. Depending on the services selected and the participation level of the client, most inspection visits will require an RDG crew of about 2-6 people. These details will be defined during the proposal process.
What are the typical inspection items?
Virtually all surfaces and parts of a given piece of equipment are visually inspected, and we will document, photograph, and measure all primary components and materials. Below is a general list of inspection items that would be review during a typical inspection visit:
Current Design Review – Verification of general arrangement of each unit for optimal function.
Physical Damage or Missing Parts – Identify and document.
Heat Exchanger Pressure Testing – Verify and confirm quantity, magnitude, and location of any leaks.
Thermal and Vibrational Fatigue – Examine all structural or expansion components exposed to these stresses.
Base / Weld Metal Corrosion – Identifying type and magnitude of attack – verification of total metal thickness losses and stage of pitting or cracking conditions.
Erosion in Liquid Circulation System – Inspection of all high velocity or heavy solids circulation lines – verification of metal thickness on accessible elbows or liquid distribution parts acceptable to high erosion.
Fouling / Washing Cycle Problems – Identify areas of excessive product buildup and source, such as – deficient cleaning cycle, circulation problems during operation, etc.
Can minor repairs be made immediately?
Absolutely, this is very common for us during our inspection visits as traditional shutdown time-lines will not allow enough time to schedule these services separately. Additionally, our service technicians are extremely experienced with field repairs, specializing in heat exchanger repairs, which most commonly include most of the immediate repairs required during these visits.
If you have any questions about our inspection service, please contact our office at (904) 225-1011